As he makes his push across the Commonwealth this week as part of the Secure Your Vote bus tour, Governor Glenn Youngkin has been delivering one message to Virginia Republicans: get off the sidelines and get in the game on early voting to win this critical election. 
"We're encouraging everybody to get off the sidelines and go vote early," Youngkin said in an interview with WTOP. "It's the most important right that we have in our great democracy, which is to elect our leaders."
"This is another moment where the nation's got their eyes on Virginia," Youngkin said of the high stakes in the upcoming General Assembly elections.
Youngkin delivered a similar message at a rally for Senate candidate Danny Diggs in Newport News on Wednesday, his third stop in the Secure Your Vote bus tour this week ahead of the start of early voting.
"Youngkin told an energetic crowd of about 200 people that it was 'time to win,'" the Virginian-Pilot reported from the event. "He told the crowd to each get 10 people to turn out to vote in elections. He also encouraged the crowd to vote early — either through an absentee ballot, voting by mail or going to an early voting precinct."
With early voting starting on Friday, September 22, Youngkin has been rallying with Senate and House candidates across Virginia this week with the Secure Your Vote bus. As ABC News reported, "the bus tour will make nine stops 'all the way from Northern Virginia down to Richmond and down to Hampton Roads.'"
On Monday, Youngkin rallied alongside Lieutenant Governor Winsome Sears, Attorney General Jason Miyares, Senator Siobhan Dunnavant, House candidates Riley Shaia and David Owen, and other candidates in Henrico.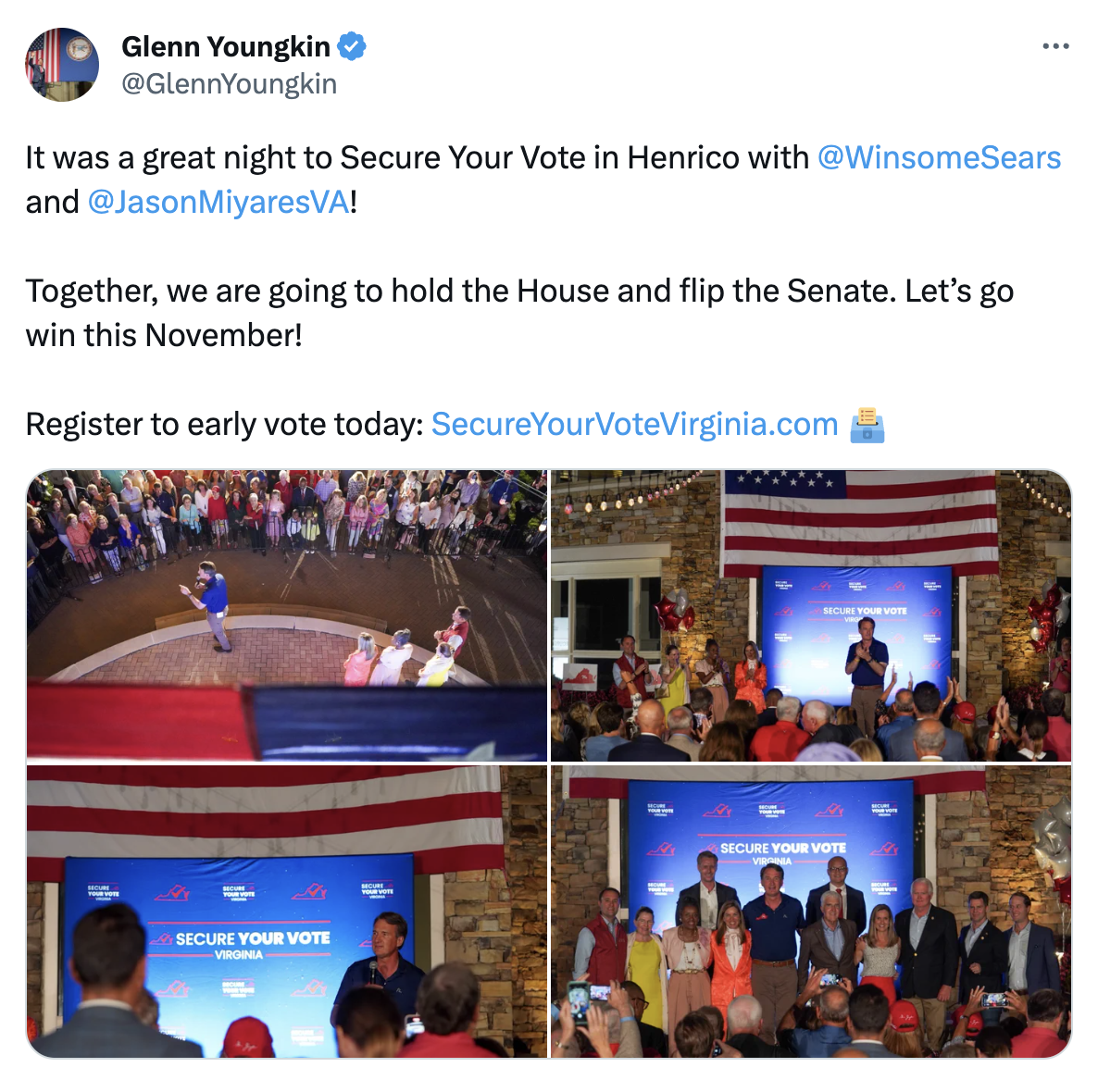 On Tuesday, Youngkin celebrated Hispanic Heritage Month with Senate candidate Bill Woolf and the community in Manassas, encouraging a packed room at Mi Tierra Deli to vote early through Secure Your Vote Virginia.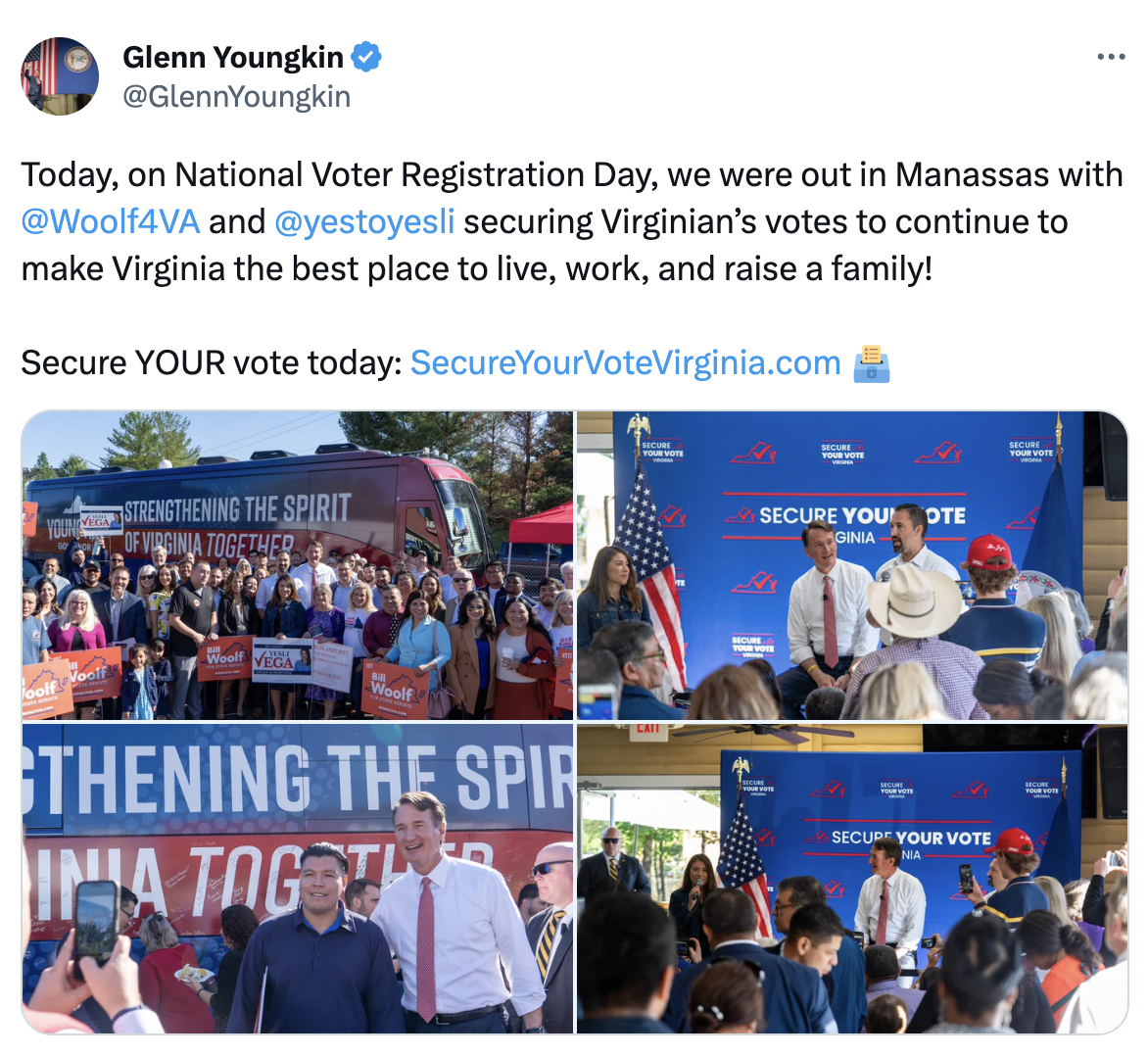 On Wednesday, Youngkin was in Newport News for a Secure Your Vote bus tour event with Senate candidate Danny Diggs.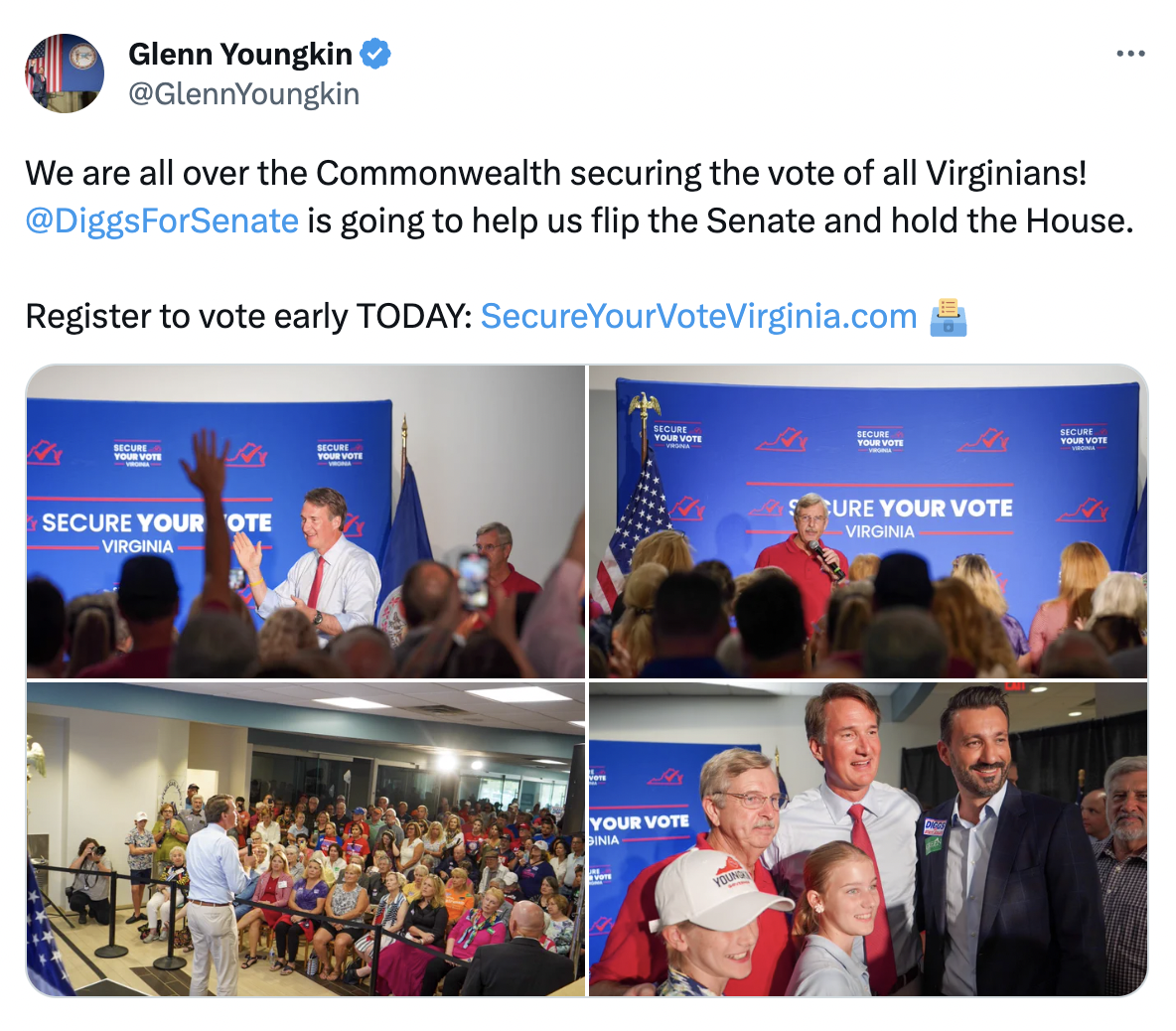 IN CASE YOU MISSED IT
THE VIRGINIAN-PILOT: At rally in Newport News, Gov. Youngkin urges Republicans to vote early
Gov. Glenn Youngkin and Senate District 24 candidate Danny Diggs held a rally in Newport News Wednesday afternoon urging Republicans to take advantage of early voting and asking them to help "flip the Senate."
…
"There's a choice, because elections have consequences," Youngkin said. "And I'll just tell you, this is our moment, because we can hold our House and flip our Senate. And that's what we're going to do."
Following that remark, he led the crowd in a chant of "hold the house, flip the Senate."
WTOP: Gov. Youngkin tells Virginians to 'get off the sidelines' for early voting
Early voting gets underway Friday across Virginia for the Nov. 7 legislative elections, which will decide political control of the state's currently divided General Assembly.
Every seat in both the House of Delegates and state Senate will be on the ballot.
"We're encouraging everybody to get off the sidelines and go vote early," Republican Gov. Glenn Youngkin said in an interview with WTOP. "It's the most important right that we have in our great democracy, which is to elect our leaders."