Bus Tour Will Push Across the Commonwealth Every Day Next Week for the Start of Early Voting 
FOR IMMEDIATE RELEASE           Contact: Press@SpiritOfVirginia.org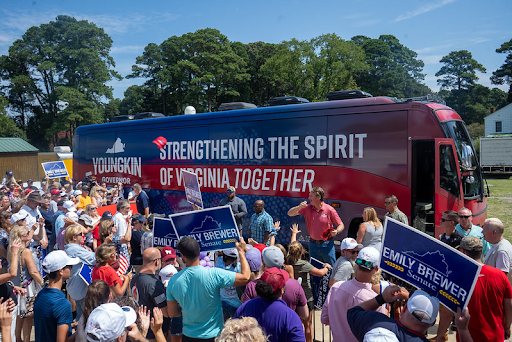 Youngkin tosses campaign swag to an energized crowd at the first stop of the Secure Your Vote bus tour
Ahead of the start of early voting on September 22, Governor Glenn Youngkin announced the Secure Your Vote bus tour will travel across Virginia every day next week to drive turnout in the General Assembly elections. 
Youngkin will join the bus tour in key districts across the Commonwealth, rallying with candidates for the House and Senate and encouraging Virginians to vote early through Secure Your Vote Virginia and vote Republican in the upcoming elections. 
The bus tour, which began in Suffolk on Labor Day with Senate candidate Emily Brewer, Delegate candidate Mike Dillender, and Congresswoman Jen Kiggans, will travel next week to Glen Allen, Manassas, Newport News, Suffolk, Norfolk, Chesterfield, Haymarket, and Leesburg. 
Full details on each stop are included below and can be found at this link.
MONDAY, SEPTEMBER 18
WHO: 
Governor Glenn Youngkin
Senator Siobhan Dunnavant (District 16) Riley Shaia (Candidate for House District 58) David Owen (Candidate for House District 57)
WHAT:
Secure Your Vote Bus Tour Event
WHERE:
Dominion Club, 6000 Dominion Club Dr, Glen Allen, VA 23059
WHEN:
6:30PM
TUESDAY, SEPTEMBER 19
WHO: 
Governor Glenn YoungkinWHAT:
Bill Woolf (Candidate for Senate District 30)
Hispanic Heritage Month Celebration and Secure Your Vote Bus Tour Event
WHERE: 
Mi Tierra Deli – 7422 Old Centreville Rd, Manassas, VA 20111
WHEN:
8:30AM
WEDNESDAY, SEPTEMBER 20
WHO:
Governor Glenn Youngkin
Sheriff J.D. "Danny" Diggs (Candidate for Senate District 24)
WHAT:
Secure Your Vote Bus Tour Event
WHERE: 
Newport News Danny Diggs Office, 10844 Warwick Blvd, Newport News, VA 23601
WHEN:
1:30PM
THURSDAY, SEPTEMBER 21
WHO:
Governor Glenn Youngkin
Delegate Kim Taylor (District 82)
WHAT:
Secure Your Vote Bus Tour Event
WHERE: 
Brother's Pizza, 25809 Cox Rd, Petersburg, VA 23803
WHEN:
3:30PM
FRIDAY, SEPTEMBER 22 (EARLY VOTING STARTS)
WHO:
Governor Glenn Youngkin
Delegate Emily Brewer (Candidate for Senate District 17) Mike Dillender (Candidate for House District 84)
WHAT: 
Secure Your Vote Bus Tour EventWHERE:
Wellons Park, 132 Pender Street, Suffolk, VA 23434
WHEN:
3:00PM
WHO:
Governor Glenn Youngkin
Lieutenant Governor Winsome Sears Attorney General Jason Miyares Governor George Allen  Governor Bob McDonnell Andy Pittman (Candidate for House District 94) Virginia Veterans
WHAT:
American Veterans Vote Secure Your Vote Bus Tour Event
WHERE:
VFW Post 4809, 5728 Bartee St, Norfolk, VA 23502
WHEN:
5:00PM
SATURDAY, SEPTEMBER 23
WHO:
Governor Glenn Youngkin
Delegate Carrie Coyner (District 75)
Glen Sturtevant (Candidate for Senate District 12)WHAT:
Secure Your Vote Bus Tour Event
WHERE:
Chesterfield County Airport, 7511 Airfield Drive, Chesterfield, VA 23237
WHEN:
8:30AM
WHO:
Governor Glenn Youngkin
Bill Woolf (Candidate for Senate District 30) Ian Lovejoy (Candidate for House District 22) John Stirrup (Candidate for House District 21)
WHAT:
Secure Your Vote Bus Tour Event
WHERE:
Quality Business Engineering parking lot: 14604 Washington Street, Haymarket, VA 20169
WHEN:
11:30AM
WHO:
Governor Glenn Youngkin
Juan Pablo Segura (Candidate for Senate District 31)
WHAT:
Secure Your Vote Bus Tour Event
WHERE:
Segra Field, 42095 Loudoun United Drive, Leesburg, VA 20175
WHEN:
1:00PM